Staff
John E. Peck (WI),  Executive Director
John E. Peck grew up on a 260 acre farm in central Minnesota, has a B.A. in Economics from Reed College and a PhD in Land Resources from UW-Madison. He has been the Executive Director of Family Farm Defenders for the last decade, and is also a part-time instructor of Economics and Environmental Studies at Madison Area Technical College (MATC).  His graduate research focused on community-based management of common property resources in Zimbabwe.   He attended the 1992 Earth Summit in Rio de Janeiro in 1992 and participated in global justice events surrounding the WTO meeting Seattle in 1999, as well as FTAA meetings in Quebec in 2001 and Miami in 2003.  He has been part of solidarity delegations to Ainaro, East Timor in 2005 and Oaxaca, Mexico 2008, and also participated in the 2007 Nyeleni Food Sovereignty Conference in Selengue, Mali, the Fifth Conference of La Via Campesina in Maputo, Mozambique in 2008, as well as the 2009 U.N. Climate Change Conference in Copenhagen, Denmark.
Board of Directors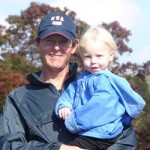 Joel Greeno (WI), President
Joel Greeno farms in Kendall, Wisconsin. In addition to feeding, milking and managing 100+ head of dairy cattle, rotating 160 acres of pasture, raising two young daughters with his wife, Laura, and contributing as a founding member to one of the better functioning dairy cooperatives (Scenic Central Milk Producers) in the country, Joel Greeno has made it his calling to fight against corporate manipulation of the free market and for a fair price for family farmers. To this end, Joel has donned the hat of president of Family Farm Defenders and sits on the executive board of the National Family Farm Coalition.  Every so often (we wonder when?), he also finds some time to sleep.
Jim & Rebecca Goodman (WI), Vice Presidents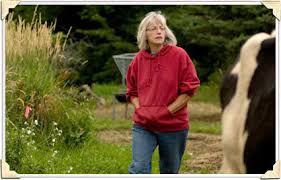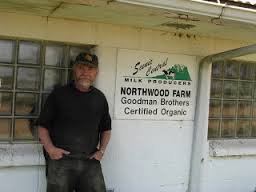 Rebecca and Jim Goodman operate Northwood Farm near Wonewoc, WI, where they milk organic cows and also raise pastured beef and homegrown forages and grain.  In their spare time, the Goodmans serve on the boards of many groups, such as Midwest Environmental Advocates and the Organic Consumers Association, and otherwise keep "busy" advocating for food sovereignty for all.  Jim Goodman also frequently writes articles for such media outlets as the Progressive,Common Dreams, Civil Eats, and the Capital Times.

Kat Becker & Tony Schultz (WI), Executive Board Members
Tony and Kat operate Stoney Acres Farm, a 3rd generation family farm located in Athens WI serving North Central WI.  Their highly diversified CSA  operation offers over 170 varieties of fruits and vegetables, 100% grassfed cattle, meat and egg chickens, pastured pigs, mushrooms and maple syrup.   As young farmer activists, Kat and Tony are both strong advocates of food sovereignty and have represented FFD overseas at various Via Campesina meetings.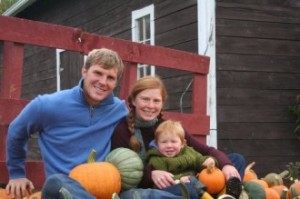 They also believe that the family farm has been a central form of economic democracy in the U.S. and around the world, and they hope to reinforce this tradition to support a healthy and socially just world.
Hiroshi Kanno (WI),  Executive Board Member
Hiroshi Kanno lives in Wisconsin. Hiroshi's exposure to global issues and concerns began in a very innocuous way. After retiring to a farm in south central Wisconsin in 1996 after 30 years of government service, he and his wife, Arlene,  learned that a major bottling company planned to build a large bottling plant covering over 80 acres of land across the road from their farm. The transnational corporation was Perrier- owned by Nestle, one of the biggest food companies in the world. Neighbors learned that the plant would deplete the groundwater from rural communities for miles and organized to successfully fight back.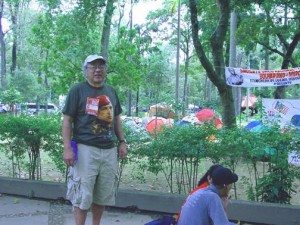 During their fight against Nestle, Hiroshi and his wife realized that Nestle's local taking of their water was part of a greater struggle going on around the globe. To learn more they traveled around the world attending water forums and world social forums in Japan, South Africa, Mexico, Miami, Venezuela and Canada.
Patty Lovera is the Assistant Director of Food and Water Watch. She coordinates the food team. Patty has a bachelor's degree in environmental science from Lehigh University and a master's degree in environmental policy from the University of Michigan. Before joining Food & Water Watch, Patty was the deputy director of the energy and environment program at Public Citizen and a researcher at the Center for Health, Environment and Justice.
Ruth Simpson (WI) , Treasurer
Ruth Simpson grew up on a family farm in West Central Minnesota, where her parents still farm today.  Farming is in her blood — her family has been farming in this country for 8 generations.  Ruth graduated from the University of Minnesota-Morris with degrees in Political Science and Speech Communication and received her law degree from the University of South Dakota.  For many years, Ruth has been a farm organizer and activist, working for rBGH labeling legislation and on the Dump the National Dairy Board campaign.  She is a founding member of the Family Farm Defenders.  She also serves as Chair of the Dane County Food Council and on the REAP Food Group Board.   Professionally, Ruth is the Research Director for the Wisconsin Association for Justice.
Farmer Directors
Bob St. Peter (ME)
Bernard Bernaud (SD)
Ben Burkett (MS)
Paul & Lana Rozwadowski (WI)
Fred Matthews (NY)
Consumer Directors
Anthony Pahnke & Marlene Rojas (MN)
Rebekah Wilce (WI)
Frances Bartelt (FL)
Stephen Bartlet (KY)
Amy Mall & Sherwin Ovid (IL)
Christina Schiavoni (NY)