Each year FFD is proud to host the John Kinsman Beginning Farmer Food Sovereignty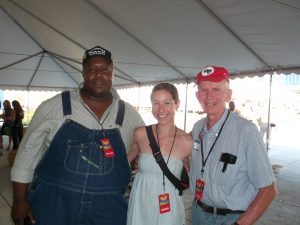 Prize – named in honor of John Kinsman, one of the founders and longtime president of Family Farm Defenders who passed away at the ripe old age of 87 on MLKJ Day, 2014.  John was not only an early pioneer of organic grass-based dairying in the Midwest, but was also a tireless champion of civil rights, social justice, and food sovereignty both in the U.S. and around the world.
To be considered for the prize, nominees must meet the following criteria:  engaged in own farm for less than 5 years; engaged in small scale livestock and/or vegetable and/or fruit production; market products locally; practice sustainable management of natural resources; promote healthy soil; conserve biodiversity; and support food sovereignty principles.
FFD board members then review the final applications and the winner(s) receive a cash prize as well as public recognition at a award dinner and ceremony usually held in conjunction with the FFD annual meeting. 
If you have someone you would like to nominate for the 2023 John Kinsman Beginning Farmer Food Sovereignty Prize, please send their name and contact info (phone, email, address) to: familyfa[email protected]  or leave a message/text at:  608-260-0900
Previous John Kinsman prize winners include in 2011: FL Morris of Grassroots Farm, near Monroe, WI, and Daniel and Hannah Miller of Easy Yoke Farm near Millville MN;  in 2012:  Nancy and Jeff Kirstein, Good Earth Farm, Lennox SD and Tracy and Dick Vinz, Olden Produce, Ripon, WI; in 2014:  Blain Snipstal of Five Seeds Farm near Sparks, MD and Jed Schenkier and Will Pool of Loud Grade Produce Squad in Chicago, IL; in 2015: Carsten Thomas from Moorhead, MN and Emmet Fisher and Cella Langer with Oxheart Farm near Mt. Horeb, WI; in 2016: Donald (Jahi) Ellis from Vidalia, GA and Polly Dalton and Oren Jakobson with Field Notes Farm near Custer, WI, in 2017 Eduardo Rivera of Sin Fronteras Farm neaer Stillwater, MN; in 2018 Tommy and Samantha Enright of Black Rabbit Farm near Amherst, WI and Craig and Lauren Kreutzel of Meadowlark Farm near Wonewoc, WI; in 2019 Curtis Whittaker of Faith Farms in Gary, IN and Joseph & Abbie Monroe and Caleb & Kelly Fiechter of Valley Spirit Farm in Campbellsburg, KY, in 2020 Jazmin Martinez, Nadia Sol Ireri Unzueta Carrasco, and Viviana Moreno with Catatumbo Cooperative Farm in Chicago, IL, in 2021 Tacumba Turner with Oasis Farm & Fishery in Pittsburgh, PA, Jenny Hoople and Raul Casique-Montes with Bountiful Beloit in Beloit, WI and Rachel "Nami" Kimura with Hinata Farms in Chicago, IL, and in 2022 Naima Dhore of Naima's Farm near Alexandria, MN and Heather Gayton of ZanBria Artisan Farms near Friendship, WI.

Each year FFD also invites individuals and other supporters to help sponsor the John Kinsman Prize.  All sponsors are given honorable mention in publicity for the award ceremony, and those making a donation of $100 or more can also receive a complimentary ticket to the award banquet, as well as FFD t-shirt!
We hope that you will consider supporting this unique effort to honor the spirit of  John Kinsman, by not only nominating a worthy beginning farmer you may know, but by also providing financial support for this amazing celebration of food sovereignty!