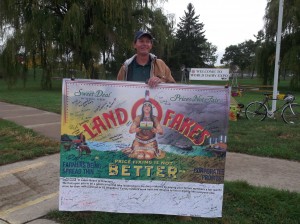 For Immediate Release 10/2/13
Contact:
John E. Peck, FFD executive director  #608-260-0900 or #608-345-3918
Joel Greeno, FFD vice president  #608-344-0564
Fri. Oct. 4th  11:00 am  Main Entrance to Alliant Energy Center (off Rimrock Road/Cty MM near the corner with John Nolen Dr.) in Madison, WI
For the fourth year in a row, Family Farm Defenders is proud to present its annual "Land of 10,000 Lagoons" Awards at the World Dairy Expo.  This year's winners in three unique categories include:
Best Factory Farm Grease Skidder – prize goes to Wisconsin State Senator, Neal Kedzie, (R-Elkhorn) for authoring a bill to preempt DNR authority and create a statewide free for all for high capacity wells!
Most Creative Waste Disposal Trick – prize goes to Wisconsin DNR Secretary, Cathy Stepp, for her shameless cheerleading of aerial spraying of liquefied manure chock full of pathogens – mmmm!
Largest Potential Manure Lagoon – prize goes to GTAC and the Cline Group, proposed developers of the massive iron ore mine in the pristine Penokee Hills on the shores of beautiful Lake Superior!
In recognition of their amazing work, Family Farm Defenders will be presenting special cow pie plaques at the World Dairy Expo to this year's distinguished awardees.
Following the Lagoon Awards ceremony, Wisconsin dairy farmer and FFD vice president, Joel Greeno, will also hand deliver a special bonus prize to one of last year's winners – Land O' Lakes.   He will be sharing with the dairy co-op's board members a giant "Be A Good Co-op" postcard signed by hundreds of attendees at this year's Farm Aid Concert as part of an ongoing campaign to restore justice to the U.S. dairy industry and guarantee farmers a fair parity price for their milk.
"The CEO of Land O' Lakes believes that farmers only exist to serve the market.  He needs to understand that farmers work hard to pay their bills and support their families first, and only serve the market second," noted Joel Greeno.  "Given the blatant corruption and illegal price-fixing activities of other dairy co-ops like Dairy Farmers of America and Foremost Farms, it is especially important that Land O Lakes be a good co-op leader in the dairy industry and start respecting the need of its farmer members for a fair milk price and the demand of consumers seeking a healthier safer product."