Join family farmers, food justice activists, and other allies to mark La Via Campesina's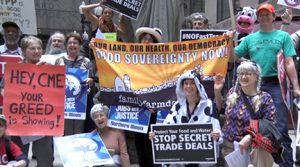 International Day of Peasant Struggle with a protest to demand anti-trust action against the food giants outside the Chicago Mercantile Exchange (CME)!
11:30 am – 12:30 pm, Rally & Leaflet outside the CME (141 W Jackson Blvd.)
Followed from 12:30 pm – 1:30 pm by a march to the IL State Attorney General's Office (100 W Randolph St) to deliver a letter in defense of family farmers and to call for national anti-trust enforcement!
Then from 3:00 pm – 4:00 pm join us for a community food sovereignty forum at the Steans Center of DePaul University – Lincoln Park Campus (2233 N. Kenmore)
In solidarity with this speak-out, people across the U.S. are being urged to contact their own state attorney general's office in support of stronger anti-trust enforcement against the agribusiness giants that now dominate our country's food system to the detriment of farmers and consumers alike.  Even if the federal Department of Justice (DoJ) is currently unwilling to enforce the law, there is still power granted to state elected officials to take action in the public interest.  Just such grassroots political pressure back in the mid 1990s helped shut down the corrupt Green Bay Cheese Exchange in WI.  Unfortunately, speculators just consolidated their activities at the CME, which has now become the world's largest commodity market – with even less government oversight.
We especially encourage anti-trust supporters in some key states to call their attorney general's office on Thurs. April 18th (all of these offices will have received our demand letter on this issue by then):
California:  Xavier Becerra  #(916) 445-9555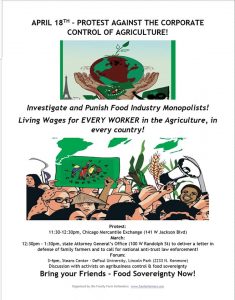 Florida:  Ashley Moody  #(850) 414-3300
Illinois:  Kwame Raoul  #(312) 814-3000
Indiana:  Curtis T. Hill Jr.  #(317) 232-6201
Michigan:  Dana Nessel  #(517) 373-1110
Minnesota:  Keith Ellison  #(651) 296-3353
New York:  Letitia A. James  #(518) 474-7330
Ohio:  Dave Yost  #(614) 466-4320
Pennsylvania:  Josh Shapiro  #717-787-3391
Texas:  Ken Paxton  #(512) 463-2100
Vermont:  TJ Donovan  #(802) 828-3173
Washington:  Bob Ferguson #(360) 753-6200
Wisconsin:  Josh Kaul  #(608) 266-1221
You can also spread the word by sharing the Facebook event:  https://www.facebook.com/events/355992121701564/
If your organization would like to sign onto the anti-trust letter being delivered to State Attorney Generals across the country on Thurs. April 18th, please let FFD know!  You can read the full letter here:   Anti-Trust Letter to Attorney General 2019
And for more on what is so wrong with monopoly power over our food/farm system, here is the flyer we will be distributing outside the CME to share:   CMEFactsheet