For Immediate Release – 4/30/20
Contact:
John E. Peck, FFD executive director, 608-345-3918, familyfarmdefenders@yahoo.com Anthony Pahnke, FFD vice president, 612-916- 9148, anthonyrobertpahnke@gmail.com
If there has been one hard truth from the global COVID-19 pandemic, it is that we need real change in our food/farm system. Family Farm Defenders this May Day expresses solidarity with all those who grow, harvest, deliver and prepare our food. In this crisis, we need to stand up and demand basic justice for all.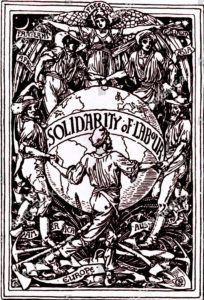 Around the world May 1st is celebrated as International Workers Day – a holiday that grew out of the epic eight hour day struggle and in particular the Haymarket Massacre of those supporting striking workers at the McCormick Reaper Factory in Chicago, IL in 1886. Just like back then, family farmers today must stand with our sisters and brothers who are in the fields, milking parlors and orchards; on the lines in meat packing and vegetable canning plants; running forklifts in warehouses; serving up meals in restaurants; and stocking shelves in grocery stores.
Since its founding, Family Farm Defenders has been proud to join many allies in this historic fight for labor rights. We were on the picket line with striking Staley workers in Decatur, Tyson workers in Jefferson, and Palermo Pizza workers in Milwaukee. We have been firmly behind the rights struggle of immigrant farmworkers from WA to NM from FL to WI. We have supported the union drives at Whole Foods, Starbucks, and Walmart – to name but a few. We linked arms with other workers against the World Trade Organization (WTO) back in 1999 in Seattle, and brought over 50 tractors to Madison during the 2011 "Wisconsin Uprising" to support union collective bargaining rights – something farmers also rely upon to win parity prices from agribusiness through their co-ops.
The ongoing corporate exploitation up and down the food/farm system has only been aggravated by the corona virus. Farm workers are now expected to continue working even without adequate protective equipment. Meatpacking plants have become another epicenter of infection, while workers still receive low wages, few healthcare benefits, and face abusive conditions. A brutal immigration system still forces our immigrant coworkers and neighbors to live in fear that they may be detained and deported at any moment.
One might think that being compelled to work throughout this crisis might bring hazard pay or other emergency benefits – not so! The truth is that we had been deemed "essential" long before the coronavirus shocked many people into realizing that their food actually comes from somewhere – with real people planting seeds, milking cows, harvesting crops, and cooking meals. As the old Industrial Workers of the World (IWW) song goes, "we have fed you all for a thousand years…."
This May Day we call upon all those who eat to join in solidarity with those who set their table. People across the country are participating in general strike actions for justice amidst the pandemic – some are walking out, others are calling in sick, while still others are choosing to not buy anything on Fri. May 1st. Family Farm Defenders strongly supports these actions. Together this May Day we can demand that our politicians bring the corporations that have come to rule our world under control. We can then take our own grassroots actions to bring about a just transition to a more sustainable and equitable system for all. Find out more about actions you can take by visiting: https://www.genstrike.org/may-day-guide/
###