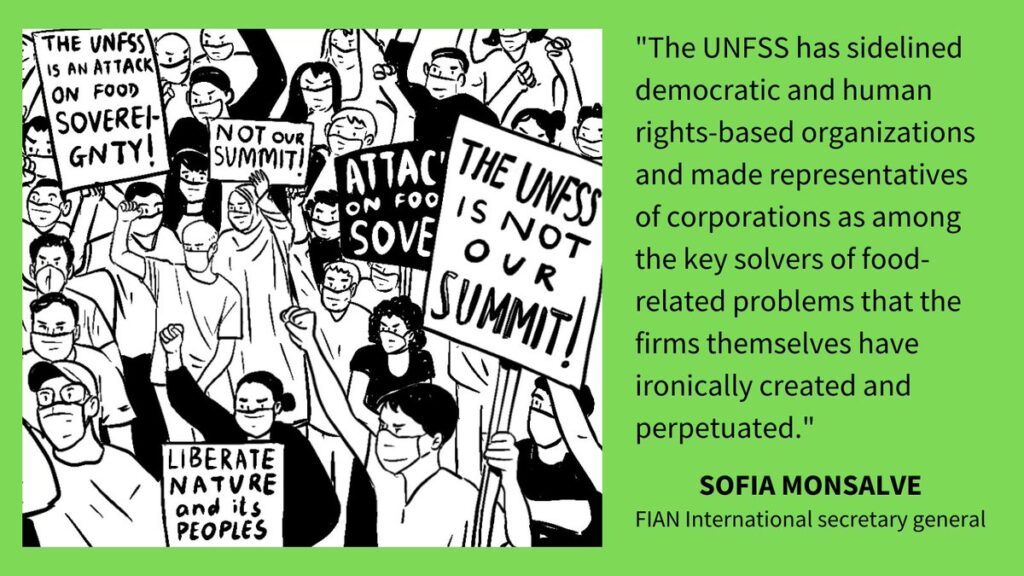 Family Farm Defenders joins the global call to action demanding #FoodSystems4People! Over 300 global civil society organizations of small-scale food producers, researchers and Indigenous Peoples' will gather online (July 25-28) to protest against the UN Food Systems Pre-Summit. The People's Counter-Mobilization to Transform Corporate Food Systems is the latest in a series of rejections of the UNFSS. Resulting from a partnership between the UN and the World Economic Forum (formed by the world's top 1000 corporations), the UN Food Systems Summit (UNFSS) is disproportionately influenced by corporate actors, and lacks transparency and accountability mechanisms. That is why FFD and many other allies are choosing not to participate in this process, and urge others to join is supporting the worldwide counter mobilization.
You can view the FFD video opposing the UNFSS here: https://drive.google.com/file/d/1j1BhwKDIZyzi4izGfzSnsaZiSPfaBEC0/view
For more info on the worldwide grassroots counter mobilization to the UNFSS, visit: (https://tinyurl.com/6f3tbx78).
You can also read an excellent overview of the systemic problems with the UNFSS process from La Via Campesina (LVC) here: https://viacampesina.org/en/wp-content/uploads/sites/2/2020/12/LVC-Position_EN_UN-Food-Summit_2020_LowRes3.pdf