Farmers, Students, Teachers, and Unions Deliver a "Thank You" Cake to UW-Madison Chancellor, Rebecca Blank, Asking Her as a Board Member of TIAA to No Longer Allow the Global Pension Fund's Investment in Land Grabbing, Fossil Fuels, and Climate Injustice!
For Immediate Release – 3/30/2022
Info? Contact: John E. Peck, Exec. Dir., Family Farm Defenders #608-260-0900
Fri. April 1st, 3:00 pm UW-Madison's Bascom Hall (500 Lincoln Dr.)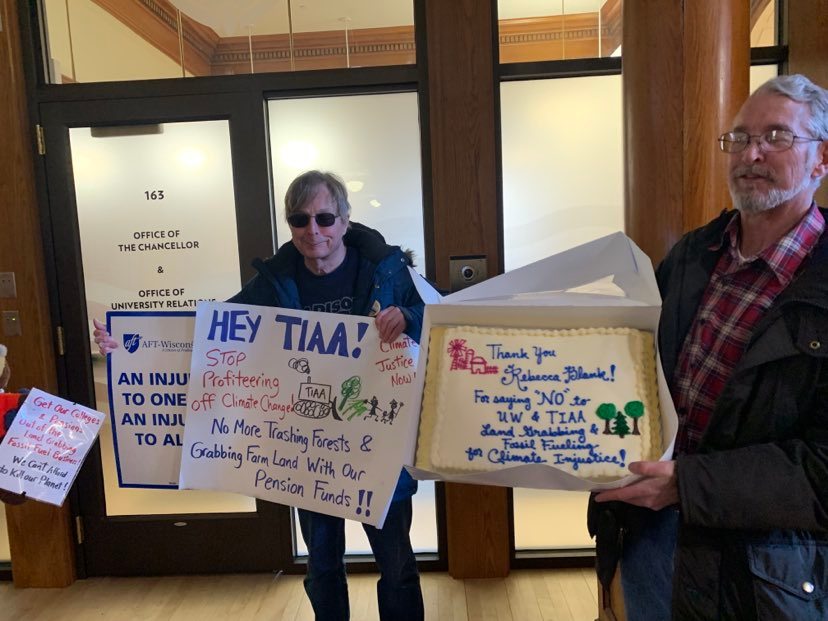 Climate activists, union members, UW students, and WI farmers gathered on April Fool's Day outside UW-Madison's Bascom Hall to deliver a "thank you" cake to UW-Madison, Chancellor, Rebecca Blank, calling on TIAA – the trillion dollar global pension fund where she serves on the board of governors – to divest from land grabbing, fossil fuels, and climate injustice. Concerned citizens are also urged to call/email the Chancellor Blank on Fri. April 1st: #608-262-9946 chancellor@wisc.edu
Similar coordinated weeklong actions will be happening at colleges and universities across the U.S. as students, staff, faculty, and retirees become increasingly upset that their institutions and pensions have been misappropriated to bankroll irresponsible practices without their permission. A petition with 20,000+ signatures is being delivered to TIAA headquarters in New York City on Fri. Other actions will be happening at Claremont College, CA; Cornell Univ., NY; and Univ. of Pittsburgh, PA. In WI, this action is part of a larger March Forth to Earth Day series of events coordinated by Building Unity.
Besides being the manager of many WI public employee pension funds, TIAA has also been given charge of the state's $4+ billion Eduvest fund for future college students – meaning that many young people are now unwittingly implicated in practices that drive family farmers off the land, destroy tropical forests, perpetuate dependence upon fossil fuels, and aggravate climate chaos.
"When I found out that my own retirement money as a part-time college professor was being used by TIAA to gobble up 50,000 acres in Mississippi, making it harder for black farmers to survive there, and also being used for agribusiness deforestation in Brazil's Amazon, threatening the livelihood of indigenous peoples, I must admit I was pretty upset," noted John E. Peck with Family Farm Defenders, a UW-Madison graduate and one of the cake delivers. "We hope that as Chancellor Blank and her staff enjoy this delicious carrot cake with cream cheese frosting, that they will also reflect upon the Wisconsin Idea and their own leadership role as public servants in averting the demise of our planet."
Way back in Oct. 2017 the WI American Federation of Teachers (AFT) passed a resolution calling upon TIAA to "Refrain from further investment and begin a process of divestment from land grabs that are known to have displaced family farmers, triggered deforestation, and aggravated climate change." A similar resolution was passed by the UW-Madison Faculty Senate in April 2019, calling for greater transparency and accountability from TIAA for its investment decisions leading to land grabbing and forest destruction. In May 2021, TIAA announced that it would take action on climate change, with a plan to achieve "Net Zero" emissions by 2050. However, over 100 organizations wrote a letter to TIAA in September 2021, calling their plan "too little, too late."
For more info, visit: Stop Land Grabs Campaign: https://www.stoplandgrabs.org/en-us/ TIAA Divest: https://tiaa-divest.org/ Family Farm Defenders: https://familyfarmers.org/?page_id=1388 Building Unity: https://buildingunitywisconsin.org/
Uprooted and Rising has also produced a great story map about the land grabbing issue, check it out here: https://www.uprootedandrising.org/slg