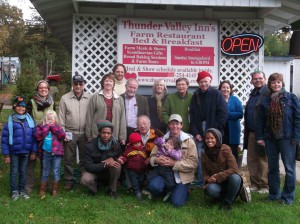 Here is the sad news that some were expecting.
John Kinsman, age 87, passed away in the afternoon on Mon. Jan. 20th at his family's farm, less than a mile from his birth place. He was laid to rest in the Lime Ridge cemetary on Sat. Jan. 25th after a funeral service at Holy Family Catholic Church in La Valle that was attended by hundreds of well wishers from across the country.
John has literally touched the lives of thousands of people as a grassroots pioneer of organic sustainable agriculture and globe trotting advocate of food sovereignty for decades. He also became a civil rights activist in the 1960s and this profound passion for peace and justice pervaded all of his activist endeavors.
We would like to continue to celebrate his legacy at the 3rd Annual John Kinsman Beginning Farmer Food Sovereignty Prize Award Dinner to be held on Sat March 15th at UW-Baraboo with Raj Patel as the keynote speaker.  Sponsorships of this prize are still being accepted, and more details on the schedule of activities in mid March will be posted soon on this website.  Those who have memories of John that they would like to share are welcome to send them to FFD to be part of this tribute.
For those who may be curious to learn more about the inspirational life of John Kinsman, below are some links to recent profiles and interviews.
His voice and spirit will be sorely missed!
– John E. Peck, executive director
Memories of John Kinsman are being collected by Andrew Kang Bartlett of the Presbyterian Church on his Food & Faith blog:  http://www.pcusa.org/blogs/foodfaith/2014/1/21/kinsman/
Carolyn Mugar's Farm Aid tribute to John Kinsman:  http://blog.farmaid.org/2014/02/remembering-john-kinsman.html
John Nichols' reflection on the legacy of John Kinsman for the Nation on 1/26/2014: http://www.thenation.com/blog/178088/farmer-who-took-corporate-globalization
2014 Tribute to John Kinsman from the Cornucopia Institute: http://www.cornucopia.org/2014/01/remembering-john-kinsman-president-family-farm-defenders/
2014 Tribute by Carol Schachet of Grassroots International:  http://grassrootsonline.org/news/blog/remembering-family-farm-defender-and-champion-john-kinsman-presente
YouTube documentary of the 2013 Farm Labor Reality Tour by Amy Mall & Sherwin Ovid that includes footage and commentary of John Kinsman in FL during the CIW March: https://www.youtube.com/watch?v=aJn5zkJn45k&feature=youtu.be
2012 Interview with John Kinsman conducted by Daniel Tucker at the Jane Addams Hull House Museum in Chicago:  https://www.youtube.com/watch?v=j_0vviyVlPo
2012 Profile of John Kinsman by Marc Eisen for the Progressive Magazine: http://www.progressive.org/family_farm_defender.html
2012 Booklet titled John Kinsman: Activist Farmer compiled by Daniel Tucker: https://danieltucker.files.wordpress.com/2012/01/kinsman-booklet-final-singlepage-web.pdf
2102 Interview with John Kinsman by In Motion Magazine: http://www.inmotionmagazine.com/ra11/j_kinsman_int11.html
2011 Interview with John Kinsman conducted by Bekah Wilce of PR Watch : http://www.prwatch.org/news/2011/10/11044/food-rights-network-interviews-food-farm-hero-john-kinsman.
Another 2011 Interview conducted by Daniel Tucker with John Kinsman at his farm near Lime Ridge, WI: http://www.foodfirst.org/en/Family+Farm+Defenders
2010 Farmer Hero profile from Farm Aid: http://www.farmaid.org/site/apps/nlnet/content2.aspx?c=qlI5IhNVJsE&b=2723875&ct=8488469