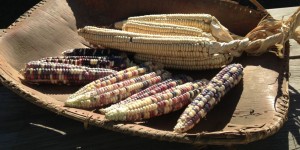 This year's 6th Annual John Kinsman Beginning Farmer Food Sovereignty Prize Award Ceremony will be held on Sat. March 11th at UW-Madison's Union South, Varsity Hall, with a reception at 5:30 pm and award dinner at 6:00 pm  Tickets for the award banquet are $35 and can be purchased online at: 
https://www.eventbrite.com/e/food-sovereignty-symposium-festival-tickets-31501668338
This year's award dinner is being held in conjunction with a much larger and exciting first ever Food Sovereignty Symposium and Festival, being held at various UW-Madison venues and other Madison locations over the course of the week of March 7th – 12th.
The symposium focuses on ways that communities and individuals seek to control and manage their food systems, including food sovereignty issues for Wisconsin's American Indian communities.   The festival celebrates Indigenous, local, and regional foods, with a variety of special meals and movies throughout the week.   Highlights include:
Tues. March 7th – 7:00 pm Food Sovereignty Film Shorts, Union South Marquee Theater
Wed. March 8th – 7:00 pm  Madison Premier of Seed – The Untold Story, Union South Marquee Theater
Fri. March 10th – 9:30 am morning session on Genetic sovereignty: seeds, breeds and wild species
Fri. March 10th – 1:00 pm afternoon session on Food Sovereignty and the Law
Fri. March 10th – Native Fish Fry
Sat. March 11th – 10:00 am small plates brunch, and morning keynotes by Rowen White, Seed Keeper from the Mohawk community of Akwesasne and Elizabeth Hoover, Dept. of American Studies at Brown University
Sat. March 11th – 1:00 and 3:30 pm afternoon sessions on:  Food Sovereignty and the Wisconsin Idea; Access to Land, Markets, and Food; Health and Food Sovereignty; Cuisine of this Place; Food Sovereignty in Dane County; and Leadership for Food Sovereignty
Sat. March 11th 5:00 reception; 6:00 pm dinner and John Kinsman Prize awards with keynote address on Decolonizing Our Diet by Dr. Martin Reinhardt, Anishinaabe Ojibway citizen of the Sault Ste. Marie Tribe of Chippewa Indians and Associate Professor of Native American Studies at Northern Michigan University.
Sun. March 12th  8:00 – 10:00 am Family Farm Defenders Annual Meeting
Sun. March 12th 10:30 am  brunch and native chef panel
Hope you can join us and please spread the word!