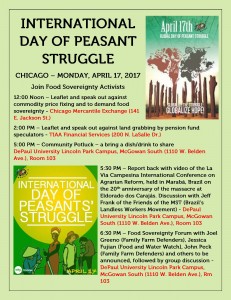 For Immediate Release:
Contact: John E. Peck, Family Farm Defenders #608-345-3918
12:00 Noon Chicago Mercantile Exchange (141 W. Jackson) Leaflet and Speakout Against Commodity Price Fixing and Demanding Food Sovereignty

2:00 pm TIAA Financial Services (200 N. La Salle Dr.) Leaflet and Speakout Against Land Grabbing by Pension Fund Speculators

5:00 pm DePaul University – Lincoln Park Campus, Rm. 103 McGowan South (1110 W. Belden Ave.) Community Potluck & Seed Swap; 

La Via Campesina Video and Report Back on the International Conference on Agrarian Reform, held in Maraba, Brazil in April 2016 – the 20th anniversary of the massacre at Eldorado dos Carajas with Jeff Frank of the Friends of the MST (Landless Workers Movement) of Brazil; Food Sovereignty Forum with speakers: Joel Greeno (Family Farm Defenders), Jessica Fujian (Food and Water Watch) and Amy Mall (Family Farm Defenders), among others followed by audience discussion.  Hosted by the
DePaul University Steans Center for Community-based Service Learning and Community Service Studies.
For over a decade now FFD and its allies have protested outside the front door of the Chicago Mercantile Exchange (CME) to mark the International Day of Peasant Struggle in solidarity with La Via Campesina, the largest umbrella organization for family farmers, fishers, herders, hunters, gatherers, foresters, and indigenous peoples in the world.  As the dominant commodity trading platform, the CME determines farmgate prices that ultimately dictate the fate of people across the planet.  Without effective government oversight, this "thin market" is easily manipulated by agribusiness giants, which is why FFD will be holding a speak out against the CME's complicity in bankrupting family farmers and price gouging consumers.

This year, FFD will also be shining a spotlight on another little known perpetrator of injustice in our food/farm system – namely TIAA, one of the world's largest pension fund managers.  Given their vast investment clout, TIAA is now the second largest landowner in the U.S. and is pursuing other speculative landgrabbing from Brazil to Australia.  This callous "profit over people" strategy, however, is causing massive deforestation, aggravating climate change, and driving small farmers off their land.   On Thurs. April 20th a coalition of environmental, human rights, labor, and farm organizations will be delivering over 100,000 signatures to the head office of TIAA in New York City, calling on them to adopt a more responsible investment policy that does not entail destroying forests and evicting farmers. 

"The world can no longer tolerate such unethical mercenary behavior from the likes of the CME or TIAA if we want to guarantee the future livelihood of our family farmers and the basic right of everyone to enjoy nutritious, healthy, and culturally appropriate food," noted John E. Peck, executive director of Family Farm Defenders. "The only real solution to the global food crisis is to restore democratic control over our entire agricultural system – and that is why we will be coming to Chicago on April 17th to demand food sovereignty now."