Despite the legislation's relatively low profile, the Farm Bill deserves serious consideration from nearly everyone, including our politicians.
By Anthony Pahnke, FFD vice president and
Originally published by Common Dreams, 3/1/2023
When the Farm Bill appears for debate in Congress every five years, most of the public pays little attention.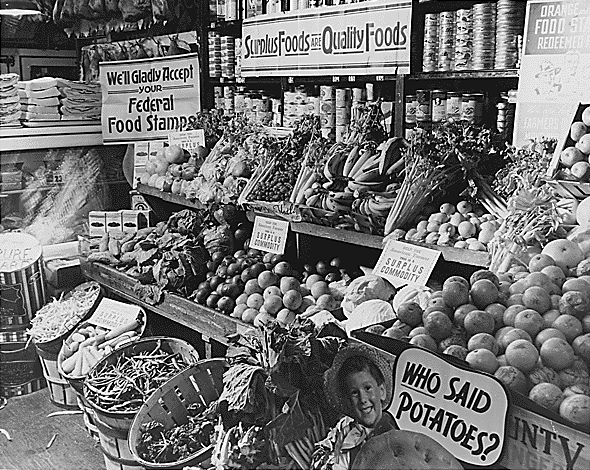 If people do notice, then it's most likely because of partisan bickering over programs that deal with nutrition spending—what some refer to as "Food Stamps." In fact, the last time the legislation was debated in 2018, Republicans caused controversy when they unsuccessfully tried to attach draconian work requirements to food assistance policy eligibility.
Still, despite the legislation's relatively low profile, the Farm Bill deserves serious consideration from nearly everyone, including our politicians.
The reason is the transformative potential of the wide range of policies that fall within the law's purview, from commodity pricing and environmental conservation to trade and development. With worsening financial stress leading farmers to commit suicide at a rate 3.5 times that of the general population, as well as climate change disrupting our harvests, we have an agricultural system in dire need of transformation.
That the Farm Bill became a legislative afterthought benefits primarily the agribusiness conglomerates that bank on cheap raw materials.
Cheap corn and soy destined for feedlot cattle help meat processor giants such as Cargill sell to retail chains for a profit. Meanwhile, Kroger and Wal-Mart have vertically integrated into dairy, which allows them to source milk for their own product lines, stifling competition as they drive down prices for others.
It's worth recalling that the Farm Bill's original intent was not to serve corporations.
In fact, the legislation was born during a time similar to ours in terms of economic and environmental crisis, specifically, when the Dust Bowl was ravaging the Great Plains states in the 1930s.
Over 2.5 million people were displaced at this time as large-scale absentee landlords unsustainably planted grain to take advantage of high prices. Prices fell when too much product filled the market, driving into bankruptcy producers who couldn't keep up. When drought hit and dust clouds appeared, impoverished farmers fled.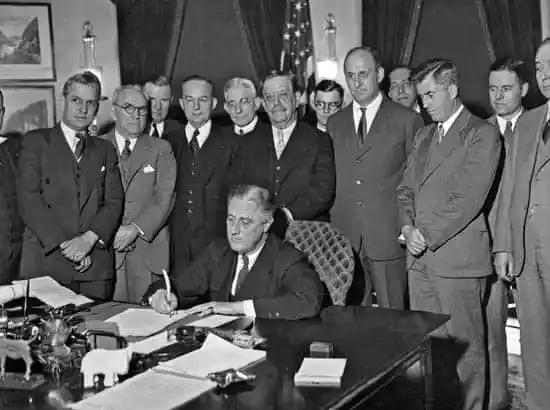 In the face of such crises, Franklin Delano Roosevelt (FDR) and Congress responded to the calls for farm system reform by creating the first Farm Bill in the 1933 Agricultural Adjustment Act (AAA). The Agricultural Marketing Act was passed in 1937, which along with the AAA, set voluntary production quotas for farmers to cut production and improve earnings. FDR also created the Commodity Credit Corporation (CCC), which in the event that farmers chose not to participate in the quota system, was authorized to purchase product to create public reserves and stabilize incomes.
These policies were oriented around one objective – parity.
Parity is not about subsidies, or rather, cash payments issued to farmers according to some arbitrarily set base price. The point is to place farmer incomes on par with what non-farm system workers receive, essentially around the idea of a living wage, or income. Besides strictly farm-related expenses, such as on seed or fertilizer, parity price calculations include what farmers spend on non-agricultural goods such as healthcare and clothing.
Not to pad the pockets of corporate executives, parity intended to create the conditions for the farm and non-farm economies to support each other and grow.
Besides this basic notion of economic justice, the design of the early Farm Bill saw to marry economic welfare with environmental stewardship—cutting production raised prices by reducing supply, which in turn, limited the use (and abuse) of land and animals.
Nutrition spending programs were added in 1939. While they were not renewed in 1943, food assistance reappeared with Lyndon Baines Johnson's "Great Society" plans in the 1960s before officially entering the Farm Bill in 1973. The programs were not meant to provide fodder for partisan ideologues to dog whistle racist sentiments to one's base, as we see now, but instead to connect people who didn't have the financial means to buy food to farmers who grew too much. The 1973 Farm Bill also saw the introduction of rural development policy, which concerns spending on energy, housing, and infrastructure. In 2023, expanding broadband internet access will be central.
Even though the parity-focused system stabilized the farm economy and led incomes to rise, challenges began to appear.
Corn growers first chose to leave parity behind in 1958, hoping to gain more private sector control over prices.
Meanwhile, the 1954 Farm Bill saw the introduction of trade with the Food Not Peace Act. This addition saw to send surplus commodities abroad, which includes credit guarantees to private lenders who help establish new markets outside of the United States. While some consider this component of the Farm Bill as key to helping other countries ensure food security, others believe it leads to "dumping," as farmers in other countries struggle to compete with U.S. imports.
What began in the 1950s continued throughout the twentieth century, as legislators progressively weakened parity pricing policies with each successive Farm Bill. Finally, the 1996 Farm Bill, also coined the "Freedom to Farm Act," replaced parity policy mechanisms with direct cash payments to farmers when commodity prices fell below a threshold that barely kept producers financially afloat.
The crux of this discussion is this—a pathway to restoring parity's economic justice and environmental sustainability imperatives remains in US agricultural policy.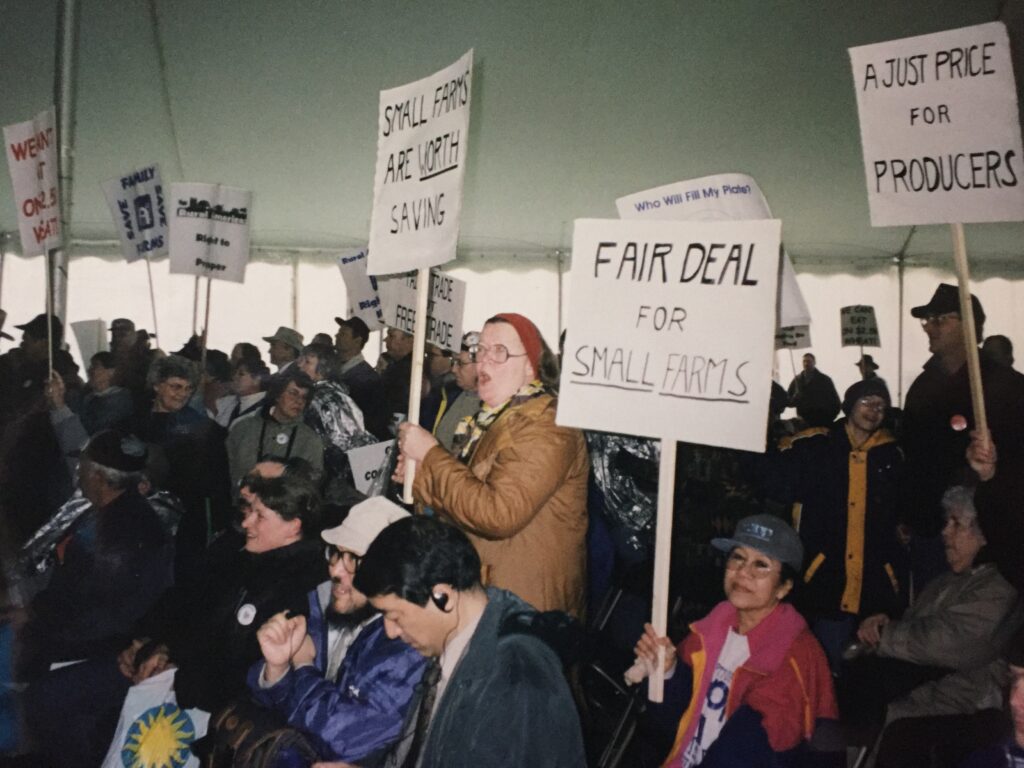 Sure, more spending could be dedicated to grants to people who grow fruits and vegetables. In fact, there's certain conservation programs such as EQIP (Environmental Quality Incentives Program) within the Farm Bill that are dedicated to support small-scale producers who adopt environmentally friendly practices such as using cover crops and/or decide to transition to organic farming.
The problem is that such programs have proven particularly difficult for small-scale farmers to access, with resources increasingly going to industrial operations that are part of the problem of corporate concentration.
Amid such matters, policymakers ought to recognize that the CCC remains. Through this public corporation, the U.S. Secretary of Agriculture can order the purchase of product to improve farm incomes, which would discourage overproduction and the pressure that farmers feel to unsustainably increase yields at any cost.
Still, agribusiness corporations stand in the way.
Their power too can be challenged, which in the 2008 Farm Bill, almost happened.
Then, Congress told processors that they had to give farmers more power to cancel contracts and seek alternatives, as well as calling for ways to help producers sue buyers over potentially unfair practices. The bill called on the USDA to craft guidelines on how to implement these changes. While the Obama administration initiated some changes, the Trump administration nixed the plan.
Still, what such moves show is how corporate power in the food system can be challenged with the Farm Bill.
Moreover, nationwide alliances such as the National Family Farm Coalition (NFFC) have been at the forefront both of demands for parity pricing, as well as calls to have politicians hold corporations accountable through enforcing anti-trust laws.
Overall, it's worth remembering how the first Farm Bill emerged at a time of environmental and economic crisis, akin to what we are experiencing now. Its goals were as bold as its policies were innovative.
This architecture remains within the legislation that is being debated now. We do not need radically new laws to transform our food system; our politicians have to use the policy tools at their disposal to discipline corporations, ensure dignified incomes to farmers, and address environmental concerns. It's our job as citizens to hold legislators' hands to the fire and make sure the Farm Bill's true potential is realized.