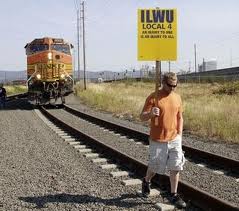 For Immediate Release Jan. 22, 2012
Contact:  John E. Peck, executive director  #608-260-0900
Family Farm Defenders, a national organization based in Madison, WI expresses its solidarity with International Longshore Workers Union (ILWU) Local 21, and strongly condemns all attempts to deny workers their basic right to organize.
"Similar strategies of collective action have been successfully used by farmers and workers for centuries in their struggles against corporate robber barons and the fight being waged today on the docks in Washington State, pitting unionized longshore workers against greedy grain exporters, is really no different," notes John E. Peck, executive director of Family Farm Defenders.  "It was this historic solidarity that brought ILWU members all the way from the West Coast to bolster the ranks of the hundreds of thousands of protesters outside the state capitol in Madison during the Cheddar Uprising last spring, and which is prompting workers and farmers in Wisconsin and across the nation to express our support for their effort now.  An injury to one is an injury to all."
As an active member of La Via Campesina, the largest umbrella organization for family farmers in the world, Family Farm Defenders is a staunch advocate of food sovereignty. One of the underlying principles of food sovereignty is that ALL workers deserve a living wage, dignified working conditions, and the right to organize.   This guarantee extends to everyone working in the food/farm system – not just farmers and farmworkers, but also meatpackers, retail clerks, restaurant servers, truck drivers, and dockworkers.
The union-busting corporation, EGT Development, which is now hiring scabs to replace ILWU workers, is hardly unfamiliar to family farmers as its dominant partner, Bunge North America, has a notorious reputation for commodity price fixing and taxpayer subsidized dumping.   Bunge is among the world's top three grain traders and saw its profits jump by 77% in the last quarter of 2007 thanks to speculation on the global food crisis.    By the end of 2010 Bunge saw its revenues balloon to $45.7 billion with $2.35 billion in reported profits.  As a major peddler of livestock feed and agro fuels, Bunge is also responsible for environmental destruction, industrial factory farm expansion, and biotech contamination worldwide.
"This crude attempt by EGT to consolidate its control over West Coast export facilities is clearly designed to take advantage of the latest round of bad trade deals such as the Korea U.S. Trade Agreement (KORUS) and the proposed Trans Pacific Partnership (TPP)," continued John E. Peck, executive director of Family Farm Defenders. "To be honest the ILWU will be doing U.S. taxpayers a huge favor, too, by blocking any load of scab grain headed overseas, since these cheap exports are only made possible by denying farmers a fair market price and larding massive subsidies onto outfits like Bungee."
Family Farm Defenders will also be urging its members and allies to contact Pres. Obama to express their outrage that the White House is directing the U.S. Coast Guard to support EGT Development against the ILWU in this labor dispute.