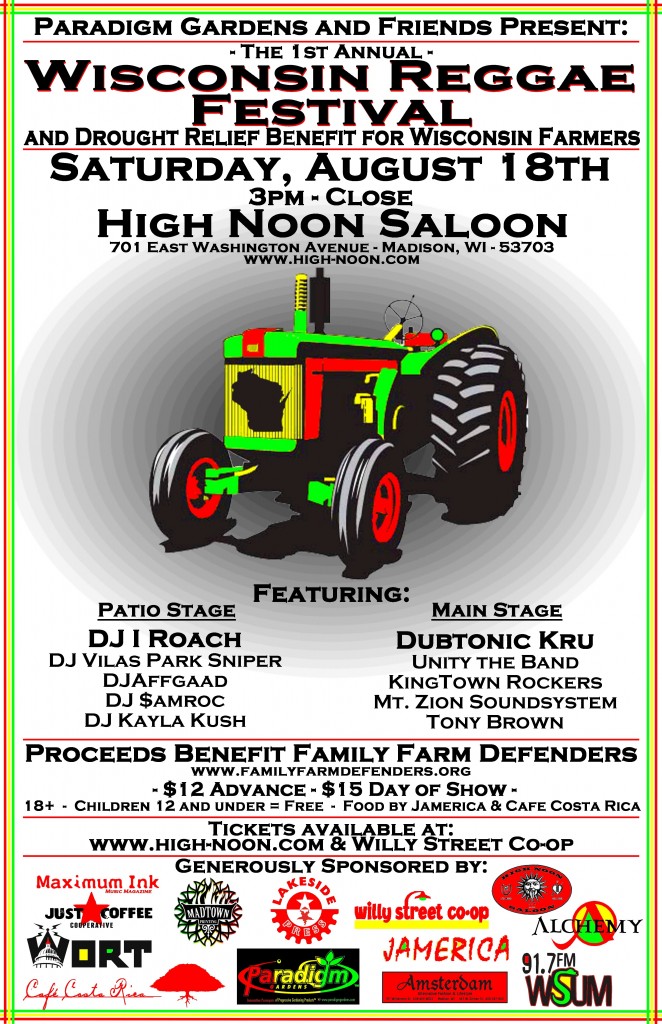 For Immediate Release
Aug. 2, 2012
Contact: 608-260-0900 – John Peck, executive director, Family Farm Defenders
Sat. Aug. 18th 3:00 pm – 1:30 am
High Saloon 701 E. Washington Ave, Madison, WI
Family farmers across America's Heartland are in the grips of one of the worst droughts in living memory and Wisconsin farmers have been especially hard hit as pastures lie brown and many crops have suffered or been lost all together. Farmers are trying to salvage what corn they can for silage, while others have already been forced to feed animals hay that was supposed to be set aside for this coming winter.
Family Farm Defenders, a national grassroots organization based in Madison, WI is no stranger when it comes to disaster and has provided valuable solidarity to stricken family farmers in the past. Within weeks of Hurricane Katrina pummeling the Gulf Coast back in 2005 FFD sent a busload of volunteers with food, medicine, and other relief supplies to the region, followed by a solidarity shipment of WI tractors and other implements to farmer co-ops in MS and LA. In 2007 and 2008, FFD raised over $25,000 in small recovery grants over 40 family farmers and farmworkers hurt by flooding. And in 2011 with help from Farm Aid and the Teamsters Union, Family Farm Defenders delivered 17 semi-loads of donated WI hay to parched ranchers in TX and OK.
The Sat. Aug. 18th reggae benefit concert will feature ten acts on two stages, including such stellar performers as: Dubtonic Kru: Jamaica; DJ I Roach: Minneapolis, MN; Unity The Band: Appleton, WI; DJ Vilas Park Sniper: Madison, WI; Kingtown Rockers: Madison, WI; DJ Affgaad: Minneapolis, MN; Mt. Zion Soundsystem: Milwaukee, WI; DJ $amrock: Madison, WI; Tony Brown: IA; and DJ Kayla Kush: U-Dub WSUM, Madison, WI with food provided by Cafe Costa Rica. Tickets for the concert are $12adv/$15dos (12 & under FREE0 and can be purchased online at: www.high-noon.com or at Willy St. Co-op East & West
Current sponsors of the benefit concert include: 91.7FM WSUM, 89.9FM WORT, Paradigm Gardens, General Hydroponics, Willy Street Co-op, Just Coffee, Maximum Ink, High Noon Saloon, Alchemy, Lakeside Printing Co-op, Jamerica, Amsterdam, Madtown Printing, Mickey's Tavern, and Revolution Cycles, with more to come.
If you are interested in cosponsorship, please contact: Amy Becher at amy.dubtonickru@gmail.com
Donations can also be made online through Razoo:

Checks can also be mailed to: Family Farm Defenders, PO Box 1772, Madison, WI 53701. Please write "drought relief fund" in the memo line. Family Farm Defenders is a 501 c(3) charitable organization so all gifts are tax deductible.