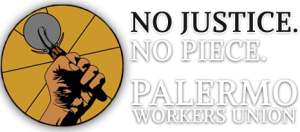 For Immediate Release  8/27/2012
Contact:  John E. Peck, executive director, Family Farm Defenders  #608-260-0900
Family Farm Defenders, a national grassroots family farmer organization based in Madison, WI, has formally endorsed the national boycott of Palermo's Pizza in solidarity with workers in Milwaukee who have been on strike for nearly three months.  Over 100 workers walked off the job on June 1st after years of abusive conditions.  Many of these Palermo's workers also happen to be undocumented and subject to deportation.
Even though ICE suspended its enforcement at Palermo's so as to not affect a pending union election, Palermo's management went ahead on its own and suspended 75 workers for their organizing efforts.  Palermo's is now recruiting scabs and has also hired the firm, Jackson Lewis, to help with its union busting campaign.  National boycott efforts are focused on Costco, which has positioning itself as a "socially responsible" alternative to Walmart, yet is one of the major retail outlets for Palermo's pizza.
"Family Farm Defenders may be the first national family farm organization to support the Palermo's workers and their national pizza boycott, but I doubt we will be the last," said John Peck, executive director.  "Our group believes there should be justice across the entire food/farm system and so this struggle is our struggle.  Among the principles of food sovereignty is the right to collectively bargain, to have dignity in one's workplace,  and to receive a living wage –  sadly, that is not the current policy at Palermo's.   An injury to one is an injury to all, whether you are a family farmer being price gauged by agribusiness giants or a food worker being exploited by a corporate pizza maker."
Support for the Palermo's workers and the national pizza boycott is consistent with other Family Farm Defenders solidarity efforts – such as support for the United Food and Commercial Workers (UFCW) strike against Tyson at the nation's largest pepperoni plant in Jefferson, WI back in 2003-2004, the recent fight of the International Longshore Workers Union (ILWU) against Bunge/EGT on the grain loading docks in Washington State, the current lockout of 1300 Bakery, Confectionery, Tobacco Workers and Grain Millers International Union (BCTGM) workers by Crystal Sugar at five plants in MN, ND, and IA, as well as the in ongoing struggle of the Coalition of Immokalee Workers (CIW) to gain justice for tomato pickers in FL.  Family Farm Defenders, along with the Wisconsin Farmers Union, was also one of the organizers behind the historic "Pull Together" Farmer Labor Solidarity Tractorcade that brought 50 tractors (plus some manure spreaders) to the WI State Capitol on March 13, 2011 for the largest rally in WI history with over 150,000 people.
Family Farm Defenders will be spreading word about the national Palermo's pizza boycott to its members and allies, and will also be urging other national family farm organizations to lend their solidarity to workers in Milwaukee
For more info on the Palermo's strike, visit:  www.sliceofjustice.com